Egon once said you never want to cross the streams, but sometimes it makes sense to use Apple technology with Windows technology. Can you even combine AirPods and a gaming PC?
All models of AirPods can work on a Windows PC with all of their features intact. However, you're likely to experience some connectivity bugs along the way and some hit-or-miss success with those aforementioned features. With a little troubleshooting, you should be able to get everything working as intended.
We've got you covered for everything you need to know about using AirPods to game on a PC.
A Quick Guide to AirPod Models (Which Are Windows Compatible?)
There are a few different models of AirPods and several different generations that have added features along the way. Let's take a look at each model of AirPods and whether or not they work on a Windows PC.
AirPods
AirPods were first announced in 2016, and Apple has since released three different generations of their flagship earbud headphone.
The standard AirPods are a set of wireless earbuds that come with an included charging case. AirPods feature touch controls, skin detection, and other useful features depending on which generation you own. AirPods also come with mics in each earbud which makes them a serviceable gaming headset alternative.
Generation 1, Generation 2, and Generation 3 AirPods can all work with Windows devices that have Bluetooth technology. However, you can expect only the basic features to work. Users report problems with the touch controls and even problems getting the mic to work.
AirPods Pro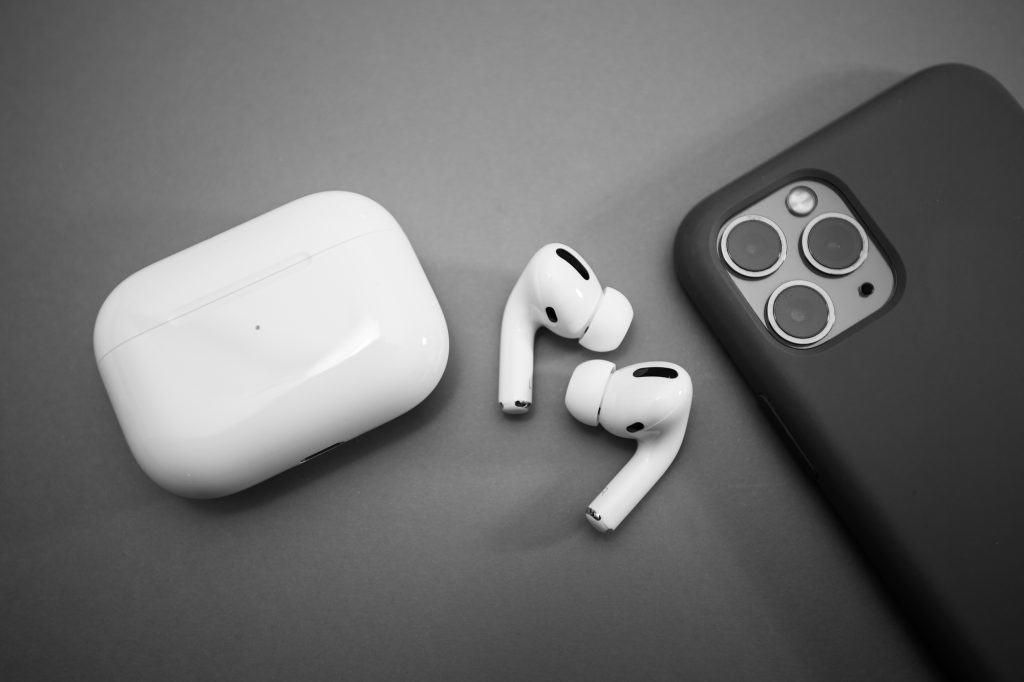 AirPods Pro were first announced in 2019. They build off of the technology in the standard Apple AirPods, but add some new features.
AirPods Pro adds active noise cancelation, silicone tips for better fit, and wireless charging using Apple's MagSafe tech and the open-platform wireless energy transfer interface Qi.
AirPods Pro seem to work better on Windows PCs than regular AirPods. It's still a bit glitchy, but the active noise cancelation is entirely hardware-driven inside the AirPods Pro, so it works regardless of what devices they connect to.
AirPods Max
Released in 2020, the AirPods Max are arguably the only flop in the AirPod lineup. These large headphones were released with an honestly goofy looking case and have their own share of design flaws.
Unlike the other AirPods, the AirPods Max resemble full-fledged headphones. The AirPods Max work on Windows computers, but there are often significant problems getting the mic to work.
Are AirPods Good for Gaming?
Answering this question seems like it would be a little straightforward, but we actually need to split the discussion between gaming on PC and the interesting corner case that is gaming on a Mac.
Gaming on Mac
Gaming on a Mac is still definitely not the norm, but it's gotten a lot more viable than it was in previous years. The game selection for Mac is still smaller by a noticeable margin that it is for PC. The AirPods Max are also built for audio and graphics work rather than gaming performance, which limits some of their utility.
AirPods make a great choice for gaming on a Mac. You'll have all of the features of the AirPods working including the microphone. AirPods are simply built to work with Apple technology.
If you're gaming on a Mac, AirPods are a natural choice.
AirPods are going to offer a worse audio quality than larger, over-the-ear headsets. However, your actual audio experience is going to vary based on the quality of headset you've got in the first place. The overall audio quality of AirPods is higher than you'd expect.
Gaming on PC
Answering this question changes a little bit when we look at gaming on PC.
AirPods are going to have the same audio quality they do on PC, but you're going to lose out on a some of their key features. Technically, all of the AirPod features can work on your PC. However, some of them are going to be buggy and you're going to have other glitches to deal with.
Here's something to consider. Do you want to be in the middle of a raid, a tense shootout in Fortnite, or any other high-stakes gaming situation and have your mic drop out or your AirPods disconnect?
If you're gaming on a Windows PC, it might be better just to pick up a wired headset and not have to worry about these problems. You can also get a Bluetooth headset that's designed to work with Windows. This will cut out the connectivity bugs that you'd have to manage in the middle of a game.
How to Use Apple AirPods on PC
It's actually surprisingly easy to get your AirPods working on a Windows PC. Despite the decades-long corporate battle between Microsoft and Apple, it seems that Apple designed an accessory that could cater to a wider market than usual.
Here's how you can get your Apple AirPods working on a Windows PC:
Charge your AirPods
Open the Settings menu on your PC
Open Devices
Open "Bluetooth & other devices"
Turn on Bluetooth
Click "Add Bluetooth or other device"
The LED light on your AirPods case should start flashing white
Click on your AirPods in the list of available devices
That's it! The AirPods should now be paired as a Bluetooth device, with your PC.
If you've got a gaming PC built in the last few years, it probably has Bluetooth already included. However, older gaming PCs or budget gaming PCs might not have Bluetooth built-in. If this is the case for you, you'll need to get a USB Bluetooth dongle in order to connect Bluetooth devices to your Windows PC.
How to Fix Apple AirPods on Windows PC
You probably knew this section was coming from the start of this article. There are plenty of glitches, bugs, and other problems getting Apple technology to work on Windows devices.
Let's troubleshoot some of the biggest problems that pop up when trying to use AirPods on a Windows PC.
Re-pair Your AirPods
The first thing that you want to do is to reconnect your Apple AirPods.
Bluetooth connectivity problems are often the source of problems that you can experience when using AirPods on a Windows PC. This is a really easy fix that uses the same steps we already did to get your AirPods connected in the first place.
Simply reopen your list of Bluetooth devices, remove the AirPods from the list, and then add them back in. This should give them a fresh start and will handle most connectivity and feature bugs.
Update Your Bluetooth Driver
The problem might be with your Bluetooth driver and not with your Apple AirPods. This process is a little involved, but this easy step-by-step guide will take you through installing and updating your Bluetooth driver.
Your first step is to uninstall your current driver. It might have gotten a bug during a recent update or maybe it's having a problem with cached files. No matter what the cause is, we're going to have to get rid of the old driver first.
Open your "Device Manager".
Navigate to the Network Adapters category and expand the menu.
Right-click on your Bluetooth driver to uninstall it.
Now that the old drivers are out of the way, here's how you can install and update your Bluetooth driver:
Open Settings
Select Update & Security
Open Windows Update
Click the "Check for Updates" button
After that, click View Optional Updates
Click the Driver tab
Select your Bluetooth driver
If this approach doesn't find the Bluetooth device (for any reason), you can instead click in the Device Manager to "Scan for hardware changes".
This will cause your Windows PC to re-check all connected devices, and should find the Bluetooth device (whether it's part of your motherboard, or a separate USB device). It should then hopefully allow you to right click and search for the latest drivers for it.
Apple Devices Often "Steal" the AirPod Connection
This is a problem that even people who own multiple Apple devices can face. This means it is going to be even more challenging for anyone who owns a Windows PC.
Your Apple AirPods are designed to work with Apple devices and they are eager to get connected. If you have iPhones, iPads, or a Mac somewhere in the vicinity, your AirPods might bias their connection towards those devices rather than the Windows PC you want to connect to.
You can start by turning off the Bluetooth option on all of your other devices. If you don't want to turn off the Bluetooth on a device, you can also remove the AirPods from the Bluetooth menu on a given device. This option is usually called "Unpair" or "Forget this device".
Some users have reported that even turning off the Bluetooth on an Apple device won't fully prevent your AirPods from trying to communicate with it. However, this should go a long way to preventing devices from accidentally snagging the connection from your AirPods mid-game.
How to Manage Audio Lag
This is going to be the biggest problem you have to face with your AirPods. AirPods use a wireless connection which has gotten better over the years, but still has more audio lag than a hard-wired connection.
Apple AirPods will experience some audio lag. This applies to both incoming audio (gaming sounds), as well as the outgoing audio (from the microphone). The audio lag from AirPods usually isn't a big deal, but it might make her break your gaming experience if you're playing a fast-paced co-op game.
Seconds matter when giving orders to your team in an arena shooter, a MOBA, or an MMORPG. A split-second of lag could mean the difference between a total wipe or a victory.
If you're really looking to get optimum performance, you should go with a headset that has a wired connection – whether that's simple in-ear headphones, over-the-ear headsets or even conference-call headphones:
Delete Your Bluetooth Adapter and Start Fresh
Our last fix is going to have you uninstalling the Bluetooth adapter itself. You can think about this as a more in-depth option than simply removing the driver.
Your first step is to delete your Bluetooth adapter, which again involves launching into the Device Manager:
Open your Device Manager
Select Bluetooth
Locate the name of your Bluetooth adapter which may contain the word "radio"
Right-click and select Uninstall
Shutdown your PC and wait at least 10 seconds
Restart and Windows will automatically reinstall your Bluetooth adapter
If this fails to work, you can force a reinstall by reopening your Device Manager and selecting "Scan for New Hardware."