The world of DIY PC Building is full of debates. However, none of them seem to cause as many sparks as whether or not you can use split or pigtail PSU cables on a graphics card.
In general, you should tend to avoid using split or pigtail PSU cables to connect a 2 pin graphics card. These cables might not be able to deliver the peak power that your graphics card needs, which can crash your computer or even brick your GPU. Always consult your PSU and GPU manuals to see exactly how many watts they can deliver and how many watts your GPU needs to safely run.
Let's look at everything you need to know to get into this charged debate and learn the shocking truth behind split cables, graphics cards, and how many watts your computer really needs to run.
A Quick Guide to Graphics Processing Units
We'll make this quick so we can get charged up about one of the longest running debates in the world of PC building.
In short, your GPU is the counterpart to your CPU. While your CPU is busy doing all the calculations needed to run software, your GPU is busy handling all of the data needed to render graphics. GPUs have gotten more complicated over the years and we can now use their processing power for other tasks as well, but they mostly just ensure that your graphics run smoothly.
Your GPU will be under more strain depending on the software that you run. This leads us to the shocking truth behind how much electricity your GPU actually uses.
How Much Power Does Your GPU Really Need?
There are two basic things that we need to consider when we look at how much power your GPU really needs. Every single graphics card comes with both an average power consumption as well as a peak power consumption.
The average power consumption represents what your graphics card is going to be using when it's not under too much strain. This could be when you're simply browsing the web, watching Netflix, we're playing some very simple online games.
Average power consumption is going to be very high and won't put too much strain on your power supply unit.
Then we have peak power consumption. This is how much energy your graphics card will need when it's firing on all cylinders. This is the maximum amount of energy that your graphics card can require in order to function at maximum performance.
Your graphics card will reach peak power consumption when it's under as much strain as it can handle. This often happens while rendering complicated 3D graphics, editing video, or playing cutting-edge video games.
Your GPU needs access to its peak power consumption at all times. Even if it hits peak just for a few seconds, it needs enough electricity to sustain that peak performance. If it doesn't get the juice it needs, it could crash your computer or worse.
Now let's jump into today's debate: Can you use pigtail PCIe cables on a GPU safely?
Can You Use Pigtail PCIe Power Cables on a GPU?
Depending on who you ask, you're going to get different takes about this debate.
There are people out there that have been using pigtail PCIe cables to power their GPU for years with no problems, but there are also people that have burnt out expensive graphics cards after just a few days of having them hooked up to a split power cable.
I cover this debate in a brief (1 minute) YouTube video below:
But for full details, let's pick apart the arguments for and against using split PSU cables on a GPU while also touching on the physics of electricity that goes underneath these arguments.
The Arguments For Using Split PSU Cables on a GPU
The fact of the matter is that you very well might be able to use a split PSU cable for your GPU. However, there are some very important caveats we need to cover first.
First and foremost, this only works on a graphics card that has a very low power consumption. This means that older graphics cards and budget models are the only ones that should ever use a pigtail PSU cable on. Newer graphics cards, and more powerful graphics cards, simply required too much peak power consumption for a split PSU cable to safely handle.
You'll need to check the manual for your graphics card, your PSU, and your motherboard to see if you can get away with using a split PSU cable on your GPU.
Keep in mind, your motherboard provides approximately 75 Watts through the PCIe slot to your graphics card. However, that wattage still ultimately draws from your PSU so it still needs to be factored in when it comes to calculating the total wattage provided by your power supply.
Here's a quick summary:
Pigtail PSU cables can work on budget or old graphics cards.
Always check your manual to get the exact peak power consumption needed by your GPU.
Side Note: Calculating The Power Supplier To Your GPU
Before going into reasons to avoid split (pigtailed) cables, it's worth looking at the exact figures here. As mentioned above, the PCIe slot on the motherboard provides around 75 watts to your graphics card.
An entire PCIe cable from your PSU will then provide 200-250 watts in total. In other words, if you pigtail it and plug both ends into your two-pin graphics card, that cable will still only provide a maximum of 250 watts.
This is why using two separate cables can be beneficial (as we discuss below): because the two PCIe power cables will then provide 400-500 watts of energy to your graphics card.
Here's some calculations of roughly how much watts a PSU configuration will provide, but remember that this varies a bit depending on the exact PSU and power cables you have:
| | | | | |
| --- | --- | --- | --- | --- |
| Number Of PCIe Cables | Are These Pigtailed (One Cable Total)? | Power From PCIe Cables | Power From PCIe Slot | Total Power |
| 1 | N/A | 200 watts (avg) | 75 watts | 275 watts |
| 2 | Yes | 250 watts (avg) | 75 watts | 325 watts |
| 2 | No | 450 watts (avg) | 75 watts | 525 watts |
While these are just rough figures, it hopefully highlights how you don't gain much extra power when using the pigtailed connection. It's nylon when you use a separate cable that you get a genuine boost in usable power to your GPU.
The Arguments Against Split PSU Cables on a GPU
Honesty is the best policy, and that means that we need to tell you that there are more arguments against using a split PSU cable and there are for using a split PSU cable.
One of the biggest arguments against using pigtail PSU cables to connect to your GPU is that this might not provide enough power for the peak power consumption of your graphics card.
This could brick your graphics card if it can't get enough electricity during peak performance. What's even worse, cheap power supplies have also been known to melt cables when a graphics card attempts to draw too much power through one of their split connectors.
Note: The manual that came with your graphics card, and also probably the manual that came with your power supply, will likely warn you against connecting a split PSU cable into both sides of your graphics card. You should always try to use individual cables rather than a split cable for your graphics card.
This reduces the risk of crashing your computer or bricking your graphics card, but it also reduces the risk of more serious problems like melting a PSU cable or even potentially causing a fire hazard.
Therefore it's almost certainly better to use two separate PSU PCIe cables for your graphics card: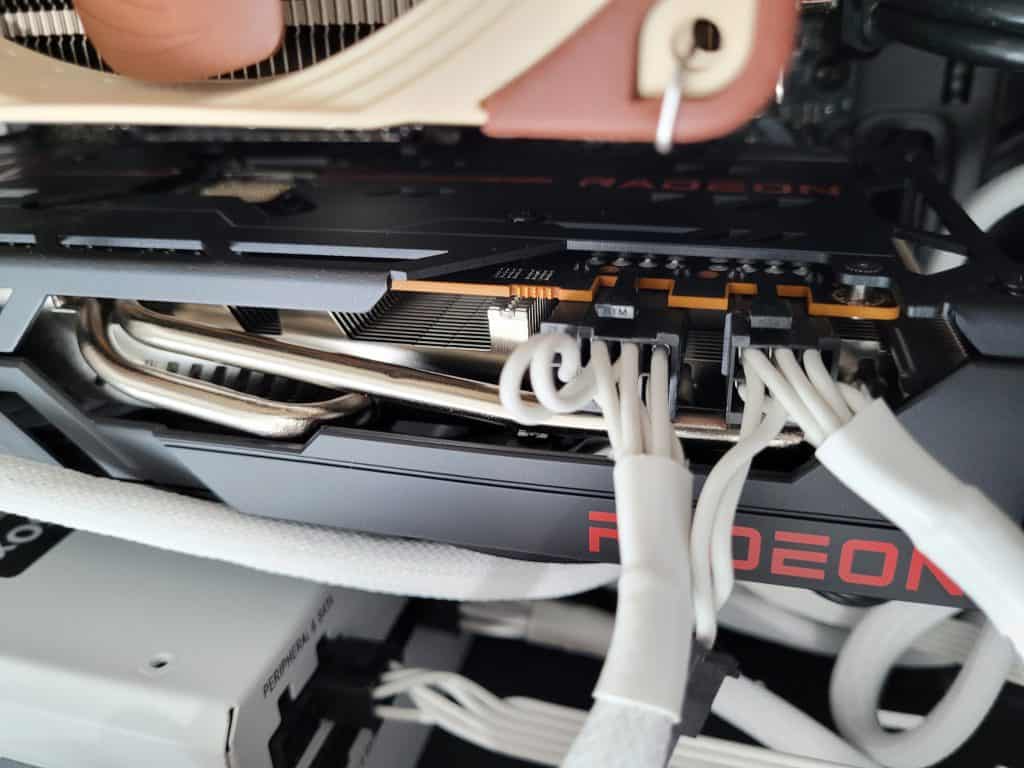 At the end of the day, those split cables just aren't built to handle the peak power consumption requirements of today's power-hungry graphics cards. Here's a quick summary:
Split PSU cables do not provide enough watts for GPU peak power consumption.
Cheap PSU have cables than can melt under too much strain.
Failing to meet peak power can crash your computer or brick your GPU.
If your PSU isn't meeting power requirements, it could be a fire hazard.
Why Your PSU is the Most Important Part of Your PC
Before we go any further, we need to talk about the unsung hero of your PC. There's one part that's arguably the single most important thing that you've installed into your PC case, but it does not get the attention it deserves.
Sure, we all love showing off the flashy new graphics cards and the most powerful CPU on the Block, but there's another part of your PC that does vital work yet doesn't get the same attention.
Your PSU is vital for the safe and reliable operation of your PC. Everything that happens in your PC starts at your power supply unit. This needs to be able to deliver the average power consumption of your PC and meet peak power demand when you're seriously gaming or busy at work.
This is why you should never cut corners on the cost of your power supply unit. This is the place where you really want to splurge and get something that can definitely handle the power needs of your PC.
The power supply unit isn't the most flashy part of your computer, but it's definitely something that needs more attention than it's currently getting.
How to Pick the Right PSU
Here's a quick back-of-the-envelope calculation that you can do for fun in the right PSU for your PC build.
A lot of people attempt to find the right PSU by adding up the total wattage required by their PC, but there's a quicker way to approach this problem that works for 90% of PC builders.
All you need to do is take the maximum power consumption of your graphics card, double that number, and then add extra wattage on top just to give yourself some buffer room.
If your graphics card has a peak consumption of 300w, then you should shop around for a power supply unit that delivers on 700 to 750w. This will ensure that your power supply unit can handle the peak consumption of the biggest power hog in your PC while still making sure it's got enough left over for every other component that needs electricity.
Can You Power a 3x Pin Graphics Card From 2 PSU Cables?
There's another thing that we need to talk about when it comes to graphics cards and your power supply unit.
Graphics cards have gotten more powerful than ever in that means we now have 3 pin graphics cards that need three separate power connections from your PSU.
This is the one exception to the general rule about using split or pigtail power supply unit cables. Unless the manual for your graphics card says otherwise, it's almost always acceptable to use a split or pigtail power supply cable for two of the three-pins in the graphics card.
This means that two of those pins can be connected using a single split cable, with the third pin having its own, dedicated cable.
This should work the vast majority of the time. After all, whilst this article has (rightly) highlighted the risks of using the wrong power cable configurations, Nvidia and other GPU makers aren't going to roll out new lines of graphics cards that no-one can use. They know that using one dedicated cable, and one split cable, should usually be enough.
(Notice how I say 'should', though: we can't give any guarantees. Be sure to do some basic calculations to work out whether the supplied power will be enough).