There's always a new type of storage on the horizon. One of the most recent changes has been the addition of double-sided M.2 SSDs. These drives have been raising questions about features and compatibility that we're going to take a closer look at.
M.2 drives can be single-sided or double-sided based on how many chips they have. Double-sided drives have chips on both sides while single-sided drives only use one side for chip placement. Double-sided drives can have more storage and better performance, but are less common in the consumer market.
Here's everything you need to know about single-sided and double-sided M.2 drives.
What Is A Single Sided M.2 Drive?
Let's start off with a quick introduction to single-sided M.2 drives. Single-sided M.2 solid state drives only have chips on one side of the drive. This means all of the storage and computing power is only going to be on a single side of the drive.
All WD_BLACK SN850 drives (apart from the 2 TB variant) are single-sided, for example.
Single-sided drives have a smaller form factor and put out less heat. They also have more physical limitations to how much storage they can hold, but you can still get a single-sided M.2 SSD drive with an impressive capacity and performance.
What Is A Double Sided M.2 Drive?
Double-sided M.2 drives have chips on both sides. These drives typically add more storage capacity by adding chips to both sides of the drive. Naturally, they have a larger form factor than their streamlined counterparts.
The 2 TB version of the WD_BLACK SN850 drive is double-sided, for example.
These drives also put out more heat. That extra storage capacity means a greater demand on your PC which includes having to add more heat mitigation into your system.
Is My M.2 Drive Single Or Double Sided?
There's some pretty easy ways to tell whether your drive is single-sided or double-sided. We're going to cover the easiest one first and then move on to the more technical way of figuring out how many sides a drive has.
The first way to figure out if your M.2 solid state drive is double-sided or not is simply to look at it. A single-sided drive is going to only have chips on one side while the other side will be empty. A double-sided drive, naturally, is going to have chips on both sides of the drive.
Double-sided M.2 SSD drives are also a tiny bit thicker and heavier than their single-sided counterparts. This is especially the case when comparing drives that have the same form factor.
Next we need to get into how we size M.2 drives to begin with. There's a few industry standards for how we talk about the size of M.2 drives whether you're shopping for a new SSD or looking for a motherboard that has some specific PCIE slotting.
Here's how you can read the size of any M.2 drive.
How To Read M.2 SSD Sizing
Before we go any further in this guide, we should talk about how you can tell the difference between the sizing options you have for your M.2 solid state drives. Reading M.2 solid state drive sizing information is actually pretty straightforward once you know how it's done.
All M.2 drives are built to fit in standard sizings and that information is usually displayed either in the product name or on the packaging. Let's take the popular 970 EVO Plus NVMe from Samsung as an example.
While this M.2 SSD doesn't have it's sizing information in its name, it does have it listed on the packaging. The 970 EVO Plus NVMe is a 2280. All M.2 drives come with these four-digit codes that let you know their sizing.
The numbers break down into the first two digits and the last two digits. The first two, in our case 22, tell us the drive's width in millimeters. The second two digits, 80 in our example, tells us the length in millimeters.
Your M.2 drive could also have an "ss" or a "ds" at the end of these numbers. This lets you know if the drive is "single sided" or "double-sided."
Which Is Easier To Install?
It's a little tricky to decide which style of M.2 drive is easier to install. It's probably going to depend on your motherboard. Both the layout and the age of your motherboard are going to determine whether or not it's easier to install a single sided or double-sided M.2 SSD.
Older motherboards were built with single-sided M.2 drives in mind. This affected how motherboard manufacturers created the physical layout of their boards.
The actual electronic components on the M.2 drive are not allowed to hit against any electronic parts of the motherboard (otherwise there could be a short, resulting in component damage). This means that more up-to-date motherboards typically ship with rubber pads, risers, and other add-ons to prevent such damage.
You can see a rubber pad between the "2260" and "2242" on the bottom M.2 connector:
These rubber pads and risers are necessary during the installation. Leaving them off causes your M.2 to be less stable – or safe – in a slot designed for double-sided drives.
Are Doubled Sided M.2 Drives More Expensive?
There's no easy way to tell whether a double sided or a single sided M.2 drive is going to be more expensive. In general, double-sided M.2 drivers are more expensive because they provide more storage. However, a high-end single-sided drive with comparable storage is still going to command a premium price.
Let's compare the pricing of a WD_BLACK SN850 drive from NewEgg.com (all drives are without heatsinks):
| | | |
| --- | --- | --- |
| Drive | Price | Price Per GB |
| SN850 500 GB | $102.99 | $0.21 |
| SN850 1 TB | $147.59 | $0.14 |
| SN850 2 TB | $329.99 | $0.16 |
So at the time of writing, the 1TB option was most cost efficient – with the double-sided 2 TB M.2 drive commanding a bit of a premium. However this was still cheaper (per GB) than the 500 GB drive.
And that's because the cost of M.2 drives is based on a range of factors:
Supply and demand factors
The amount of storage they have available
Their overall performance.
Solid state drive manufacturers have started using the other side of the M.2 drives to attach more storage to the physical device. This typically increases the price.
However, a 1 TB SSD is still a 1 TB SSD whether it's single or double-sided. The pricing is going to be similar depending on the brand you're shopping for and the type of read write speeds the drive is advertising.
Is Single Sided Or Double Sided M.2 Better For Gaming?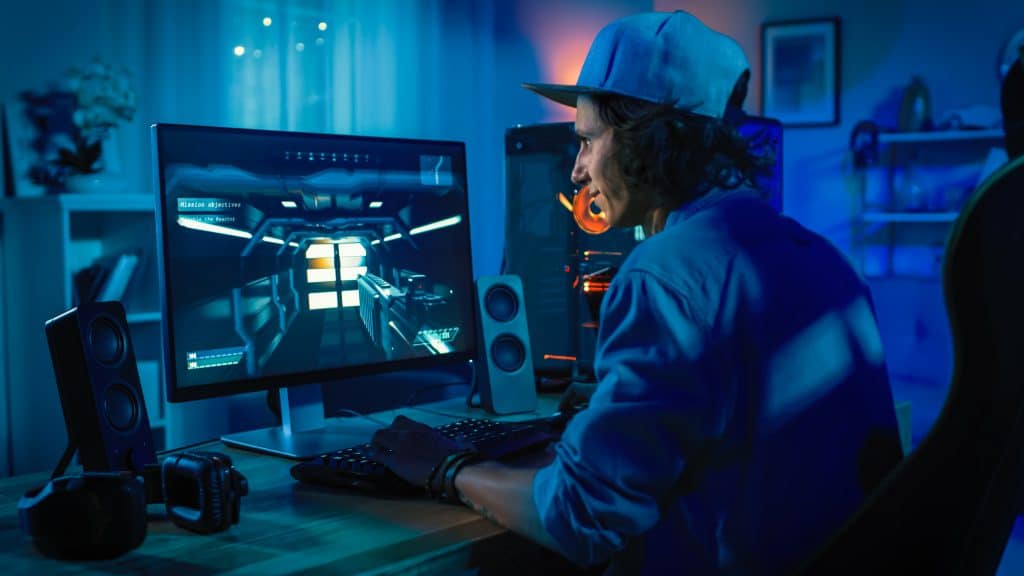 In order to figure out which style of M.2 drive is best for gaming, we need to consider the two big factors that these drives will impact on your gaming PC. M.2 drives have different performance benchmarks, physical size, and heat requirements:
Let's start with performance first. This is the big one when it comes to optimizing gaming potential. You want to get the drive that offers the most storage and the fastest read and write speeds. This is typically going to be a double-sided drive because they just have more physical space, and the improved chip layout means that they can sometimes have more performance optimizations than single-sided drives.
The other factor is heat. A double-sided drive generates more heat than a single-sided drive. This is because a double-sided drive has chips on both sides which puts out more heat during operation. You're also going to need more heat mitigation with a double-sided drive.
This means that a single-sided drive might be better if you're looking for a more streamlined build with less overheating risks.
On the other hand, a double-sided drive is going to offer you the best performance and the most speed. It all comes down to your specific build and the gaming benchmarks you're looking to hit.
Why Lower Capacity Drives Are Usually Single Sided
This one comes down to simple math. A single-sided M.2 SSD just has fewer chips for storage than a double-sided drive. A double-sided M.2 SSD has a whole extra side to add storage and computing power. This means single-sided drives are fundamentally held back by only one side of their physical space.
Double the physical sides, double the storage size. Well, it's not always that linear, but that is a handy mnemonic for remembering the key difference between these drives.