I freely admit that my study (and PC) looks a bit… boring:
The lack of sparkly RGBs or triple 4K monitors means that I won't win any style awards. However I'm actually pretty happy with my home computing setup, which includes a fairly powerful 4K video editing PC (that has 12 cores and 64GB of RAM), 1 gigabit networking throughout my house, multiple mesh Wi-Fi points and a Synology NAS.
So I wanted to shoot this video and run through my home computer set-up, and discuss what I like (and dislike) about it (please read on if you prefer text to video though):
My Windows PC
Specs
Case: Corsair Carbide 88R MicroATX
Motherboard: ASUS TUF Gaming B550M-Plus
CPU: AMD Ryzen 9 5900X
Cooler: Noctua NH-C14S
RAM: Corsair Vengeance RGB PRO 64GB (2x 32GB) DDR4 3200MHz
GPU: AMD Sapphire RX 6700XT 12GB
Storage: 2x WD Black SN850 M.2 SSDs Gen4 w/ aftermark ELUTENG heatsinks
PSU: Corsair RM750x White
Extra Info
My PC uses an old Corsair Carbide 88R case which is microATX and it has SOME cable routing holes, but overall it's quite a small case so cable management can be a bit difficult. The case supports up to 38cm graphics cards "in theory" but in practice it's closer to 30cm – which was usually fine in the past, but nowadays some GPUs are starting to become too big for the case.
So I could see myself getting a new case at some point, but right now this works well.
The actual build itself is very AMD centric, with an ASUS B550M-Plus motherboard and a Ryzen 5900X CPU. I love my 5900X – it has 12 cores, 24 threads and it makes light work of 4K video rendering. My PC will lag a bit when it's rendering since all cores are in use, but otherwise my PC has no slowness at all.
To be honest, I haven't even bothered to overclock the CPU because it already does everything I need it to do, although naturally this chip does have some headroom if I did want to explore overclocking.
I chose to cool it with a Noctua air cooler (for reasons I discuss in another video) and I get pretty good cooling performance from it. Plus this unit of a cooler actually fits in my case, which is a bonus.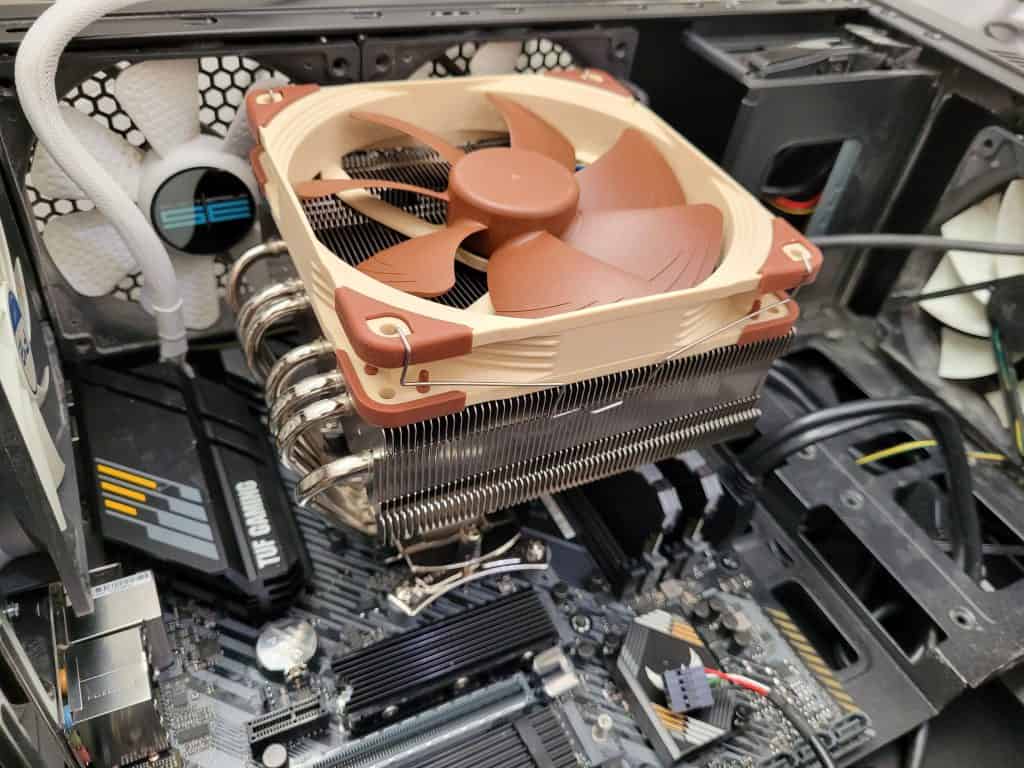 The RAM is Corsair Vengeance and it has sparkly RGBs – not because I like RGB, but it was cheaper than the other options. When purchasing my PC in 2021, DDR5 wasn't really a viable option for me so my RAM is naturally DDR4 running at 3200 megahertz. I ended up paying for 64 gigabytes of RAM thinking that I might sometimes exceed 32 gigs when video editing, but to be honest I rarely get above 25 gigs of RAM usage. Nonetheless I like having the extra headroom in the RAM, just in-case I need to open some new tabs in Chrome or something!
For my graphics card, I spent ages debating between an AMD GPU or an NVIDIA 3060 Ti or 3070 (something I discussed more in another video), but I ended up choosing a 6700XT which comes with 12GB of VRAM – a decision I'm pretty happy about because so many games nowadays seems to need huge amounts of VRAM.
4K gaming on simple games like Rocket League works fine, although it will drop to 30 to 40 fps in games like Sniper Elite 5, and it will drop below 30 fps in the most graphic intensive games. This isn't entirely unexpected though because the 6700XT was only ever marketed as a 1440p card.
Finally, my PC build then has a white Corsair RM750x modular PSU and two WD Black SN850 NVMe drives which are really fast. One is my boot drive while I store videos and games on the other. I cool them with aftermarket heatsinks because they are PCIE4 which can get fairly toasty at times. My motherboard does have a built-in heatsink but this only covers one drive, so I just left this heatsink off and used the aftermarket ones instead.
Overall I love this PC. Yes it's not really up to 4K gaming standards, but I use it more for video editing than gaming – and I don't mind gaming in 1440p instead when I need to. So I'm not planning any upgrades to it anytime soon.
My Home Network
Summary
A mix of CAT6 and CAT7 cables on all floors.
Two CAT7 Ethernet cables run from the router in a living room up to a gigabit switch in the attic.
Four 'Eero Pro 6' routers are used to provide gigabit WiFi 6 speeds throughout the property.
Three of the Eeros use wired backhaul (Ethernet connections), while one in the garage uses wireless.
Extra Info
My home network relies on a mix of Ethernet and Wi-Fi (of course). I moved into this shiny new build of a house in 2017, and I promptly ripped apart my living room wall so that I could run some CAT7 cables from my router up to the next floor (and then ultimately into my attic).
I ran two cables: one is actively used (and plugs into a gigabit network switch), while the other is just a backup right now in-case the first cable fails… or spontaneously combusts. I doubt that'll happen, but running the cable was quite annoying, so I thought it best to have a backup option.
From there, I run Ethernet cables to my NAS (which I discuss below), a few IoT devices and also down into my study. I run that Ethernet cable to my Eero Pro 6 router – and then another Ethernet cable runs to my PC. This wired setup results in really low pings when gaming, often between 10 and 20ms. The only lag I experience is from Rocket League's dodgy servers.
Before this setup, I tried using Powerline adapters and they were fairly unreliable in both my previous and current house – I would get random disconnections or lag spikes multiple times a day.
That covers the Ethernet setup, but what about my Wi-Fi networking? Well as I've just hinted at, I have four Eero Pro 6 routers dotted around my house. One in my living room, one in this room, one in the attic, and another in my garage.
The first three all use Ethernet for 1 gigabit wired backhaul, whereas the one in my garage uses the standard Wi-Fi approach:
In general this works well – I get maximum speeds on my phone when I'm in the house, while I get one to two hundred megabits per second if I'm further away (in my garden). It's all really reliable though and my connection never drops until I've physically left my property which is a much nicer situation than having some old router with limited coverage.
My NAS
Specs
NAS: Synology DS220+
Drives: Seagate Ironwolf 4TB HDDs (3.6TB usable)
RAID: SHR (Synology Hybrid RAID)
Extra Info
We have a few different PCs and laptops at home, and it's not always practical (or advisable) to rely on cloud storage for 'sharing' files between different computers. That's naturally where a NAS – network attached storage – comes in. I have a Synology DS220+, which is a mid-range 2-bay NAS.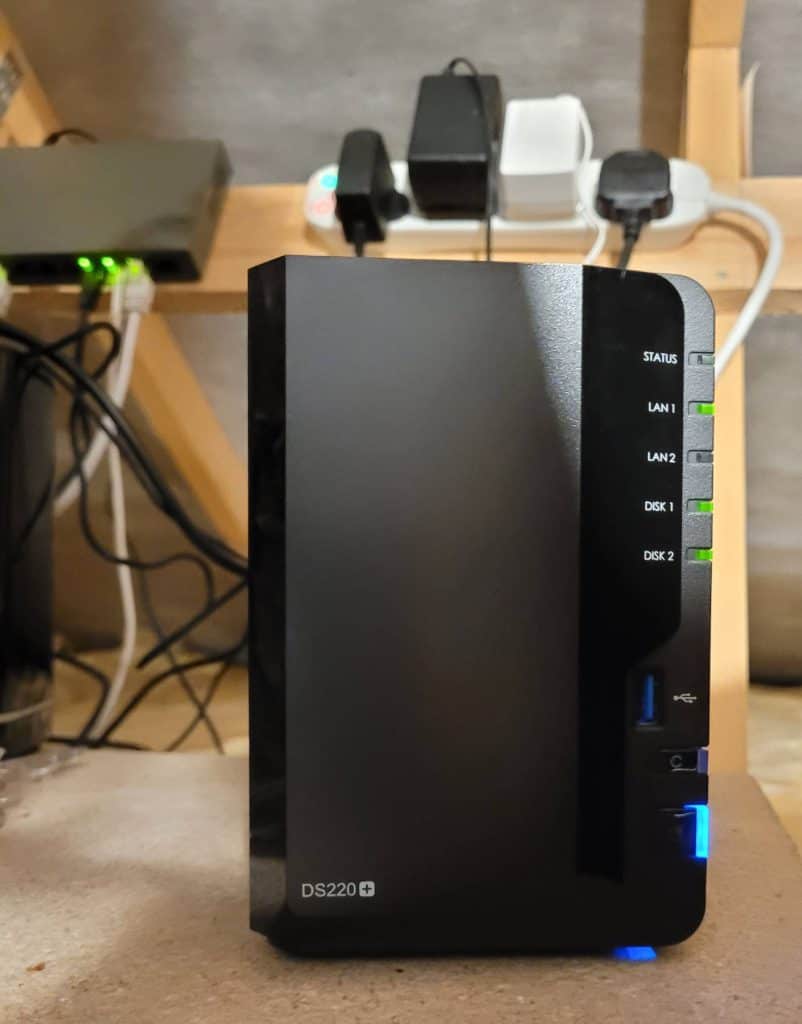 While it's not some thousand dollar box, I love it. It's fast, smooth and reliable. Before Synology I had an old DLink NAS which was… not great. But everything about Synology is better – thankfully! When spec'ing out my NAS, I knew that I didn't want to edit video directly from it – it would mainly be a backup storage box, and a way of sharing certain files with other computers in the household.
As a result, I went with two 4TB Seagate IronWolf hard drives which I naturally run in RAID (or Synology's Hybrid RAID solution, to be precise).
Because RAID isn't a backup, of course, I then use Synology C2 storage and HyperBackup to ensure that all my files and data is backed up nightly.
This setup works well for me and I get over 100 megabits per second read/write speeds from the NAS, meaning that I can pull large 4K video files from it in a fairly small amount of time. This is good enough for my purposes right now, so I don't feel the need to upgrade the drives to SSDs or anything like that.
My Chromebook
I have an Acer Chromebook 315 which is fairly low powered – but it does exactly what I need it to do. I use it for writing up articles and YouTube scripts, and it's just a simple, quiet and distraction-free machine with a 10 hour battery life – so it works out really well. I paid just over £200 for it due to a cashback deal that was available at the time, and it's been a great purchase.
My Favorite Games
That wraps up my current setup, but I wanted to briefly cover my favorite games. I love both Rocket League and Final Fantasy Ten.
I've always liked racing and football games, so Rocket League is naturally a game that I was always going to love – although in recent months I have found myself getting a bit wound up by it, for some reason, so I'm taking a bit of a break from it.
Then we have FFX: I love this game. The storyline is awesome, Blitzball is a brilliant side game, and I even enjoy chocobo racing!
I really enjoyed following the character development, and was gutted at the ending (when Tidus' real 'life' was revealed). I did try playing FFX-2 to get Tidus and Yuna reunited, although I could never really get into FFX-2 – so I just watched all the YouTube summary videos for their romance instead!