With electricity prices higher than Elon Musk on Joe Rogan's podcast (am I allowed to say that?), people have rightly been going around their homes turning off unused appliances. But what about your Synology NAS? It's basically a computer, right? And people often turn their computers off at night – so it stands to reason that your NAS should be turned off nightly, too.
Well it's not always that easy: some devices are designed (and indeed, optimized) to run 24/7. Is this also true of Synology NASes? Let's find out.
Key Points
Switching your NAS off nightly can save some energy, and potentially increase your drive's lifespan.
But in reality, the savings are marginal – especially when using older mechanical drives (because they dislike regular shutdowns and start-ups).
Synology offers a number of power saving features if you instead want to keep the NAS running 24/7.
Should You Run Your Synology NAS 24/7? (The Short Answer)
While turning your Synology NAS off every night will save some electricity, you will not be able to access any of your files when it is off. Plus Synology NASes come with a number of power-saving features that will reduce power consumption – especially when the NAS is not in use.
For me, the decision (of whether to turn the NAS off at night or not) comes down to how frequently you use your NAS, and what you use it for:
If you have loads of Docker virtual machines running, it could be more hassle than it's worth to shut your NAS down frequently.
Equally, if you use your NAS for streaming camera footage (via the Synology Surveillance Station), it wouldn't make sense to lose all your overnight footage by having your NAS turned off.
Having said that, if you only occasionally use your NAS and you don't have any scheduled tasks (like backup jobs), you will reduce your electric bills a little bit by turning it off at night.
Let's explore these benefits in a bit more detail.
The (Potential) Benefits To Shutting Down At Night
Some people argue that any mechanical or electronic device will need a break from time to time, and so shutting down your Synology device will help the NAS – along with the hard drives or SSDs installed in it.
Since hard drives have a lifespan of 3-5 years (for example), you could argue that shutting them down every night will prolong their life. After all, if they are rated for 40 months of 24/7 running, if you only run them for 12 hours a day, they could last for 80 months instead.
That's the theory, at least. In practise, turning drives on and off can (slowly) damage them – which I explore later on.
What is undeniably true is that you will save electricity by turning your Synology NAS off when you are not using it.
A Synology NAS will use 20-50 watts of electric, although this varies a lot depending on your exact Synology model and how many drives it has (a 2-bay DS220+ NAS might only use 20-25 watts, whereas an 8-bay NAS will use closer to 40-50 watts).
If we calculate this at 30 watts of energy use, energy cost calculators will show us that this equates to 24 pence a day at the UK's current energy prices:

While £7.20 per month isn't massive, it is still decently expensive – especially if you only use your NAS between 9am and 5pm, Monday to Friday (for example). If you instead ensured that your Synology NAS was only turned on between these times, it would equate to 480 minutes a day and change the total cost to just 8 pence a day (or 40 pence a week, i.e. under £2 per month):

Going from £7.20 per month to under £2 per month is clearly a big saving, especially if you have multiple NASes.
How To Shut It Off At Night
There are a few ways to shut your Synology NAS off at night:
You can manually push the power button on the front (hold it for 3 seconds, until you hear a beep). This will tell your Synology NAS to start a graceful shutdown, which basically means that it will wait until all active jobs (like running backups) are completed. It will then shut down.
Hook your Synology NAS up to a UPS and then use the UPS' built-in shutdown schedules. Many people prefer to protect their NAS by hooking it up to a UPS, and while this brings various benefits anyway (such as protecting against blackouts), it can be useful for our purposes because many UPS devices have shutdown schedule support. In other words, they can be configured to shut down on a timer (such as at night, or when you leave the office).
By using a power schedule. Synology allow you to configure a power schedule from within the DSM admin UI, which is probably the best option because you can easily specify when your NAS should turn off – and turn back on again. Just go to "Power Schedule" within the "Hardware & Power" section of the control panel, then click Create to add a new schedule.
With all that said, it's often easier – and better – to keep your Synology NAS running all the time.
Reasons To Constantly Run Your Synology NAS
I am personally a fan of running my Synology NAS 24/7: I never turn it off at night. There are three main reasons for this:
I have a few backup jobs running overnight. One is the Synology C2 backup, which backs up my entire NAS to the Synology cloud. Another backup job transfers a few mission-critical files (from another server) onto my NAS every night. Turning off my NAS nightly therefore wouldn't make sense for me.
Power cycles are actually a tough process for many electronic devices (such as NASes), but especially for hard drives. These are mechanical devices, and putting them through frequent spin-up and spin-down cycles is something I prefer to avoid.
Synology design their NAS devices for 24/7 running: this is what the majority of users want to do. So I would argue that constantly shutting them down is (kind of) using them against their design, although admittedly Synology do have features to support this too.
If you do decide to keep your NAS running overnight, there are still ways that you can reduce power consumption when it's not in use.
How To Save Power While Running The NAS 24/7
Synology ship their NASes with multiple power-saving features when you might want to consider using, especially if reducing electric usage is a priority for you.
Enable Disk Hibernation
Synology NASes are designed with a few layers of hibernation features for different parts of your NAS. By default, your internal drives – and any external (USB) drives will go to sleep after 20 minutes of inactivity. You can check (or modify) this within "HDD Hibernation" within "Hardware & Power":
This means that if nothing is using the drives, the hard drives will spin down – reducing overall power consumption. Of course, if you have various packages installed, there might be constantly hitting the drive – meaning that this hibernation mode does not kick in.
Still, it is a fairly useful benefit – especially if you mainly use your NAS for file access (because when you stop accessing files, the drives will go into hibernation after 20 minutes).
Use Wake-On-Lan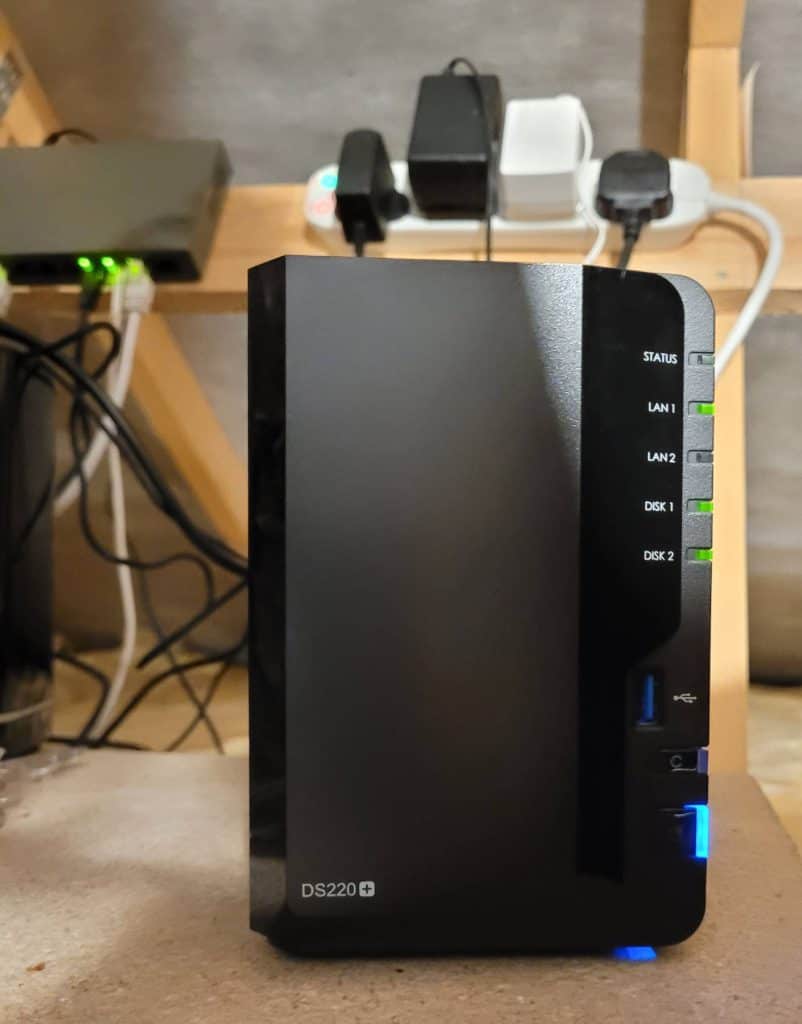 The majority of Synology NASes support WOL (wake on LAN), which is a useful power recovery feature – because it can also save you power. If you would ideally like to switch your NAS off overnight, but you are concerned in-case someone might want to occasionally access your NAS then, WOL is perfect for you.
WOL functionality appears in a number of systems, and in Windows (for example) the computer can turn on automatically if local LAN traffic is detected.
Translated: "if local LAN traffic is detected" is just a fancy way of saying that your PC 'monitors' the ethernet cable that is plugged into it, and if it detects a new 'request' to access the computer (e.g. to retrieve files), it will then start up.
It's worth pointing out that WOL works slightly differently with Synology NAS devices, though. The NAS won't automatically start-up when network traffic is detected. Instead, it monitors 'requests' from a wake-on-LAN application (like the DS Finder app or Synology Assistant) for its exact IP and MAC address. It will then turn on. In other words, simply trying to access your NAS from a PC won't turn it on – but accessing it via one of Synology's apps will turn it on.
You can enable this useful feature under the "General" tab of "Hardware & Power" within the DSM control panel:
If your NAS has multiple LAN (ethernet) ports though, make sure that you tick the right option here. For example if your ethernet cable goes into LAN 2, be sure to tick "Enable WOL on LAN 2" not on LAN 1 – otherwise WOL will not work for you.
Low Power Drives To The Rescue
A final way that you can reduce your Synology's power consumption is by purchasing specific low power drives for it. Western Digital, for example, sell "WD Green" drives – or drives with "GreenPower" which they claim are "low power" and reduce overall power consumption.
Drives of all types (hard drives, SATA SSDs and M.2 NVMe) can all use 5-10 watts of electric, so the fact that WD Green drives use half this power is good to know.
After all, if you have a four-bay NAS, you could save 20 watts by switching to a 'green' (low power) drive. This could translate to £5 per month of electric saved, which is naturally important to consider.
Warning: some people argue that WD Green drives should not be used inside NASes, especially because their power saving mode can cause problems inside RAID arrays. You should always double check the Synology compability list when buying hardware for your NAS, in-case the expected product isn't recommended. If you already use WD Green drives inside your NAS, make sure that you keep off-site backups at a minimum.
Equally, M.2 NVMe drives tend to use less power than SATA drives (whether that's a HDD or SSD), so you could also consider moving to NVMe drives if your budget allows. Not only will file transfer speeds be faster, but your energy consumption will also be lower.