Something that has always annoyed me on Windows is just how difficult it makes playing sound. It should be simple. If you plug in headphones, it should play on there. If no headphones are plugged in, it should play through the monitor's speakers. Simple.
But it's often not the simple, unfortunately. Windows gives you random sound options like "Realtek Digital Audio", "DP (AMD)" and "Speakers (Realtek Audio)". If you're struggling to play music (or other audio) through your monitor's speakers, look no further. I have experienced this issue many times, and the fixes are often simple enough…
If you have checked for updated drivers and that your monitor cables are plugged in correctly, you should move onto checking the sound settings on Windows and your monitor. There are eight common causes and fixes to get your monitor playing audio.
Key Points
Firstly check Windows sound settings, and whether your Windows Updates are all up to date.
Next check that your monitor cables are working correctly (and plugged into the right place!).
Your drivers (including your motherboard chipset and GPU's drivers) should also be up to date.
Finally your monitor itself might be faulty, or you might have disabled the speakers by accident on the monitor's settings menu.
Speakers: Monitor Or Third Party Speaker?
Some people love listening to music or gaming sounds using an 'external speaker', which is a fancy way of saying headphones or a headset. These allow you to immerse yourself in the sounds, blocking you off from the world while you play an awesome game or listen to a great song.
However other people like to listen out for things – be it a delivery person, or their 'sleeping' baby. As a result, relying on the built-in speakers in your PC monitor can also be a good plan:
I personally like to mix it up, sometimes using headphones (especially at night), but other times using the monitor's speakers. Unfortunately this often results in a bunch of Windows issues, where the sound should be playing – but it's… just not. Let's dive into why this is, and how to fix it.
8 Reasons Why Your Monitor Is Not Playing Sound
There are eight common reasons why your monitor simply is not playing sound like you would expect. These reasons can range from physical causes (such as an old cable, or a cable plugged into your motherboard by mistake) to software related (such as old drivers or bad Windows sound settings).
Let's dive into each cause in turn, and look at how to fix this issue once and for all.
Reason #1: The Windows Sound Settings
In theory, Windows will automatically switch the sound source to the most recently plugged in speaker. For example, if you plugged in headphones, it should usually switch to them automatically so that any playing music or game audio will play through the headphones instead.
Unfortunately this does not always happen. Instead you might need to click the little speaker icon in the taskbar (usually on the bottom right of your Windows system):
This should then present you with multiple options, which could be things like:
Realtek Digital Output (Realtek Audio) – this is often used for speakers plugged into the motherboard, in the back of the PC case.
Speakers (Realtek Audio) – this is often used for speakers plugged into the front of the PC case, or a USB headset.
DP (AMD High Definition Audio Device) – this is for sound coming through your monitor, and usually where your monitor is plugged into an AMD graphics card (but it can apply to cases where your monitor is plugged into
DP (Intel High Definition Audio) – this is also for sound coming through your monitor, and often when your monitor is plugged into your motherboard.
HDMI – this is where sound is coming through your monitor, and the monitor might be plugged into your graphics card or your motherboard.
In my case, my monitor connects to my graphics card via a Display Port cable. As a result, if I want to have audio playing through my monitor, I have to select the "DP (AMD High Definition Audio Device)" option.
Annoyingly, whenever I listen to music through some headphones, I usually have to manually select the display port sound option again – even after unplugging the headphones. So it's a bit random from Windows, but I at least understand what each sound option means – and therefore which to select.
Reason #2: Check Where The Monitor Cable Is Connected To
As hinted at earlier, where your monitor is plugged into matters a lot. It's the same thing as when you plug into your motherboard, and then get terrible FPS. Basically your system's graphics (rendered on the monitor) are powered by the CPU – via your motherboard – and not your graphics card.
It's a similar issue with your monitor too. If you plug the HDMI or display port cable into your motherboard, Windows might not give you the right sound options to select:
This is what I did when I first built my system, and Windows did not offer me any options to play sound via my monitor speakers. In theory it should have… but no dice.
I had to plug my monitor cable into my graphics card, allowing me to then install all the latest graphics drivers. And then I was granted the "DP (AMD HD Audio)" option in my sound settings. Windows is weird!
Reason #3: Are The Audio And Graphics Drivers Up To Date?
That brings us onto the third potential issue: are all the drivers up to date? You might think that you can just run a quick Windows update, but it's unfortunately more involved than that.
All the following could result in you not being able to play sound via your monitor:
Your motherboard will probably have a bunch of drivers to install. In 'the old days', this would be done with the included CD. But nowadays you need to go to the manufactuer's website and download the drivers there. Make sure that you download any audio drivers and firmware as part of this process.
If you plug your monitor into a graphics card, your graphics card's drivers should all be kept up to date, too. If not, Windows might not know how to play audio correctly through your monitor. I made this mistake myself – I had not installed the AMD Radeon software fully for my 6700 XT, and so Windows simply did not offer me the option to play sound through my speakers.
After downloading all the latest motherboard and graphics card drivers, you should then run a Windows Update just in-case there are any residual packages to update before your sound settings can run smoothly.
Realtek drivers and software are the main way that audio is played through your system, either via headphones, headsets – or your monitor. Often these drivers come with your motherboard software, but if not, double check whether you need to install any Realtek software. For example, Intel allow you to download these drivers via their website.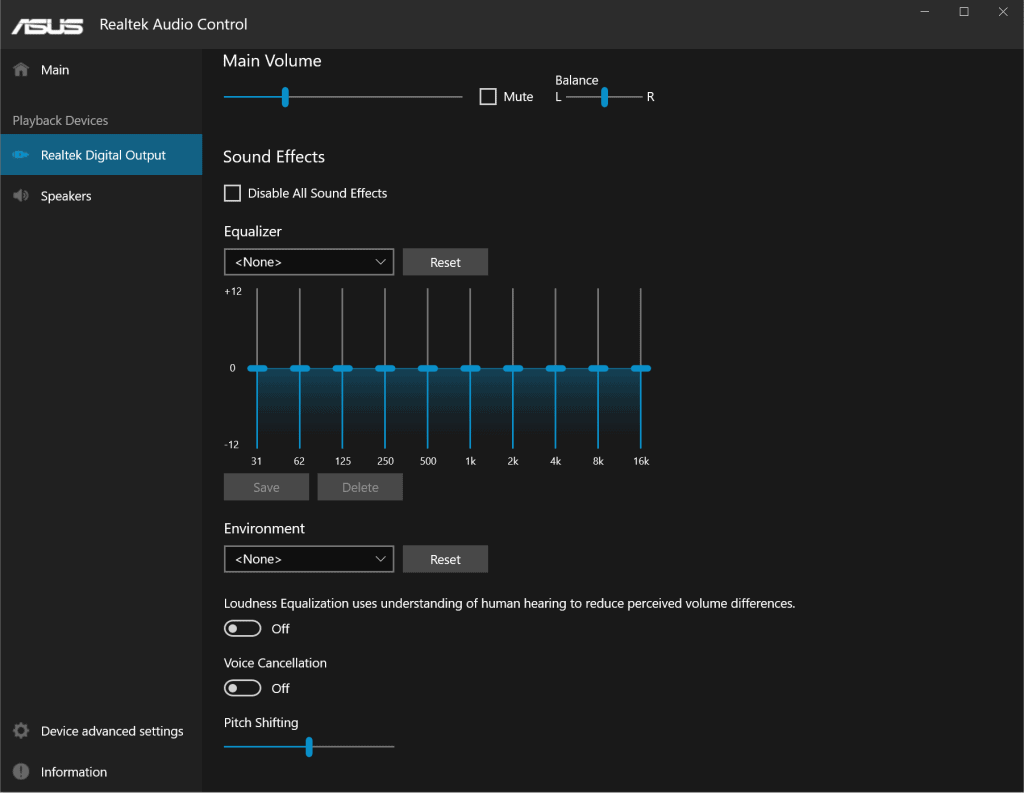 If you have an Intel or AMD CPU and/or graphics card and you don't see any "Realtek" options on your computer (try searching for it in the Windows search bar), it's likely that you are missing some key drivers or firmware somewhere.
Reason #4: Are The Speakers Disabled On Your Monitor's Settings?
The next thing to check is whether the audio is disabled (or muted) within your monitor itself. You might forget to check this, but pretty much every monitor with built-in speakers will have a setting for this somewhere in its labyrinth of menus:
You should look out for an "Audio" or "Music" menu, and double check that nothing is muted or disabled. Also make sure that the volume is not too low – anything below 30 might be hard to hear if you play quieter songs.
Reason #5: Update Windows
Okay, okay. I know that I dismissed Windows Updates earlier – telling you to update your motherboard and graphics card drivers instead. But Windows Updates might be also be a genuine cause of system sound setting issues.
I would suggest that you install all the required motherboard and graphics card drivers and software, restart your system, and then launch Windows Updates. They might install a peripheral package that is required for proper through-the-monitor audio.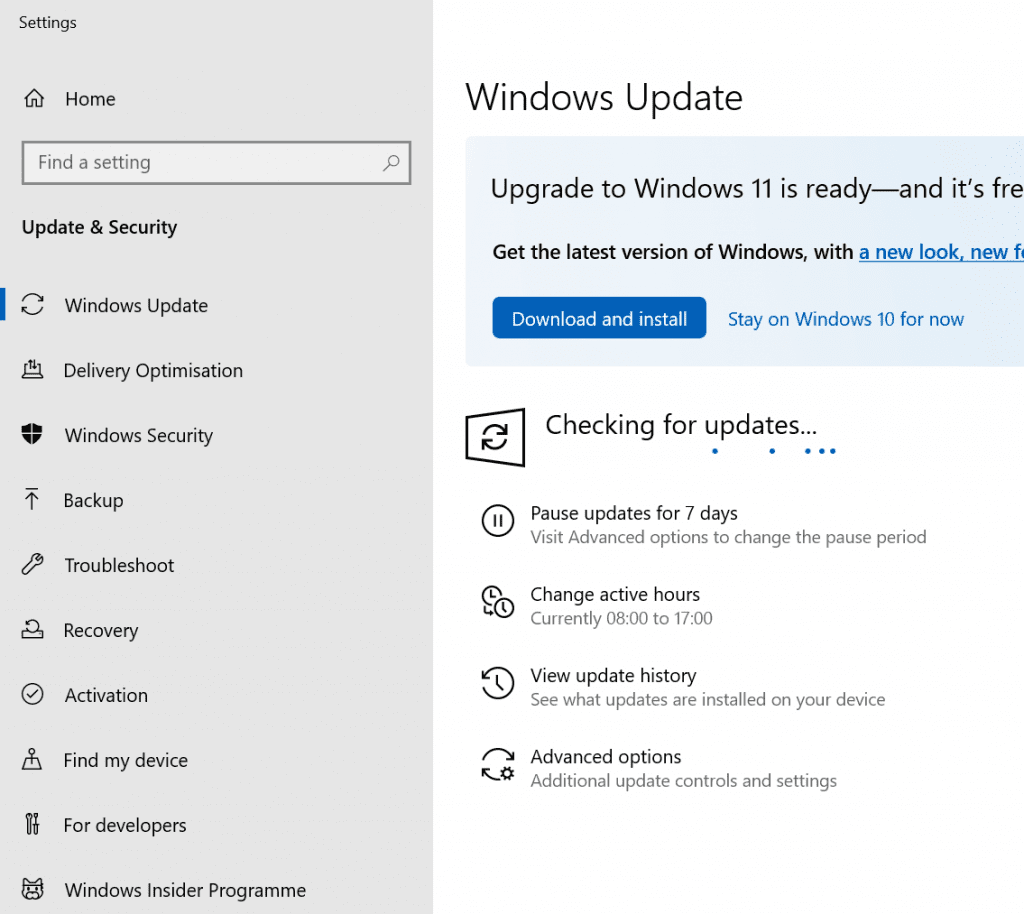 Reason #6: Double Check Your Monitor Cable
Next up, it will be worth checking your monitor cable. There are a few different ways that you can plug your monitor into your computer:
VGA
DVI
HDMI
Display Port
VGA and DVI are fairly old, but you still see these cables included in monitor boxes from time to time: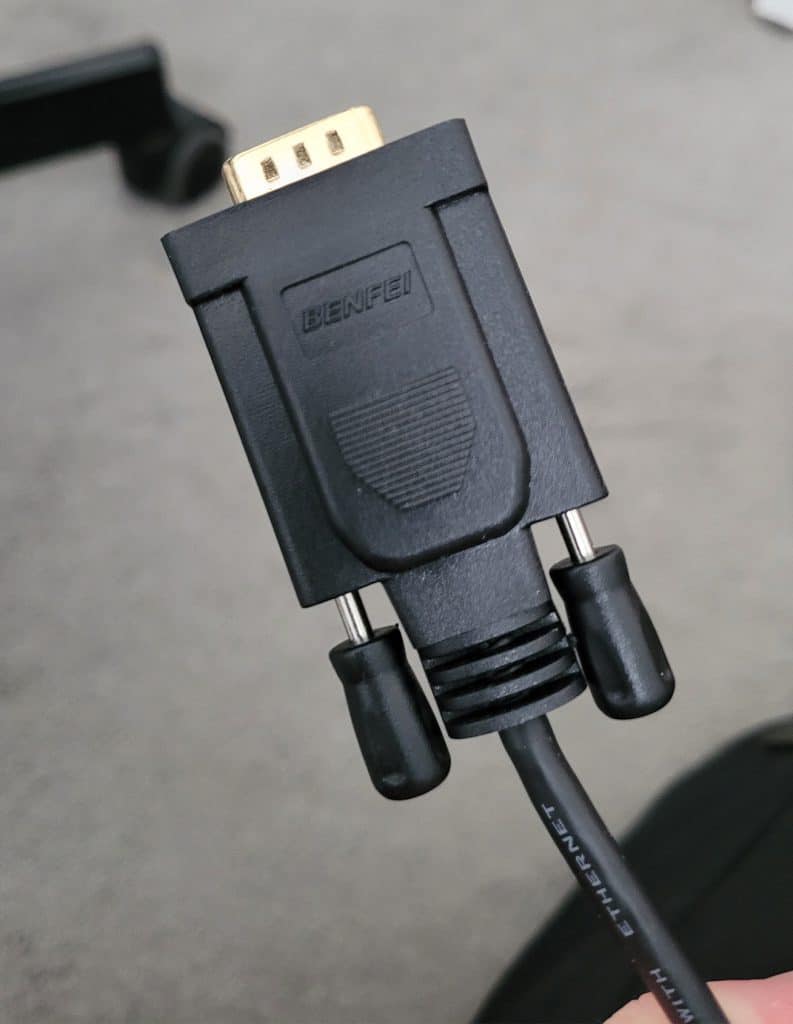 Sometimes these cables are 'too old' to reliably play music through your monitor's speakers, especially since Windows and drivers are increasingly expecting HDMI or display port connections nowadays.
If you have an old (or damaged) monitor cable, look to replace it with the latest cable you can use – ideally display port, but HDMI or not. Naturally you need to ensure that both your monitor and computer can support the cable you purchase, otherwise one end will not fit.
Reason #7: Unplug It And Plug It Back In Again
Have you ever plugged some headphones into the audio jack of your PC case… and nothing happened? Windows simply failed to recognize the new audio device? In 9 times out of 10, simply removing the headphones and plugging them in again works just fine – and audio starts playing through them automatically.
It can be the same deal with your monitor cable. Try removing the HDMI or display port cable, and plugging it back in. This has been known to get audio playing through your monitor speakers! Just remember that display port cables often have a clip to press in before you can remove them (just like ethernet cables), so do not just yank it out with force!
Reason #8: Maybe Your Monitor Is Faulty?
Finally, it is always possible that there is a hardware issue at play here. Just like headphones can break, so can the speakers built into PC monitors – especially budget monitors.
If you have tried every option and nothing works, you might want to see if you can return your monitor for a refund or a replacement.